NEWS
Maria Shriver & Children Stick Together Amid Arnold Schwarzenegger Love Child Scandal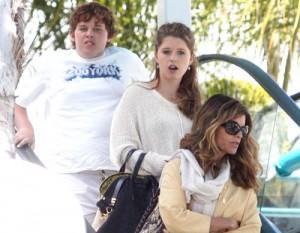 Maria Shriver took her children Katherine and Christopher Schwarzenegger out for lunch yesterday in Brentwood, Calif. amid revelations of Arnold Schwarzenegger's love child scandal. The trio look shocked at the paparazzi that awaited them, and Maria kept her face shielded with over-sized sunglasses. Despite the unwanted attention, the family continued about their day.
Arnold admitted his infidelity and revealed that he had fathered a son with a household staffer.
Article continues below advertisement
His mistress has been reported to be Mildred Patricia Baena, who gave birth to Arnold's alleged son 13 years ago.
Arnold has allegedly been sending generous financial aid to Patty and her boy since the birth.
Katherine, Arnold and Maria's oldest child, Tweeted a message apparently about her father's confession that he had a baby more than a decade ago with Patty.
MORE ON:
OK Galleries & Photos
"This is definitely not easy but I appreciate your love and support as i begin to heal and move forward in life," she reportedly wrote. "I will always love my family!"
Maria and Arnold announced their separation last week, after 25 years of marriage. She has reportedly hired a top level lawyer to go ahead with divorce proceedings.
"This is a painful and heartbreaking time," Maria said in a statement after Arnold admitted to fathering a son outside of wedlock. "As a mother, my concern is for the children. I ask for compassion, respect and privacy as my children and I try to rebuild our lives and heal. I will have no further comment."