NEWS
Mariah Carey Can Only Trust Nick Cannon "Sometimes" & He's Not Always Nice!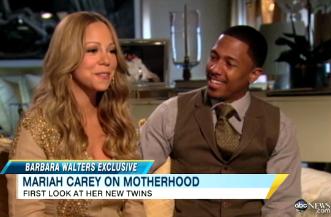 Mariah Carey surprises Nick Cannon with her answers to Barbara Walter's questions about their marriage in their new 20/20 special interview — she only trusts him sometimes!
Mariah and Nick married only weeks after they started dating and the singer admits she was "initially" afraid to marry again.
"Initially I was afraid of the concept of marriage," Mariah explained to Barbara during their 20/20 interview. "But this is a different situation and I'm a different person and it's a different time of my life. Nobody will be able to steal my spirit again. So I'm just happy to be in love and to be here."
Article continues below advertisement
Mariah was previously married to record executive Tommy Mottola and after that relationship ended Mariah told Barbara she was afraid she "could never trust anybody again."
So Barbara had to ask about Nick, "Do you trust him?"
"Sometimes," Mariah said.
"Sometimes?" Nick asked.
"Alright, can I trust you more than sometimes?" Mariah asked. "You tell me."
"Absolutely," Nick replied.
Are they happy together?
"We are," she said. "Especially when he's nice. When he's nice, he's the best guy in the world."
And yes, Mariah says there are times he's not nice.
"Yeah, you know. He's a man, Barbara," Mariah said. "Let's call it what it is."
Watch a clip of Mariah and Nick's interview over at ABCNews.com! Their 20/20 interview airs tonight at 10 p.m. ET.