NEWS
Mariah Carey Dismisses Pregnancy Rumors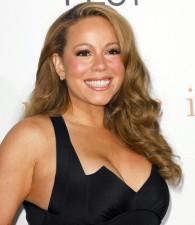 Despite the rumors that continue to swirl around Mariah Carey and whether or not she's pregnant, the diva herself tells Larry King she and hubby Nick Cannon aren't expecting anytime soon. "Pregnant right now? I'm going to take a swig of my scotch and let you know," Mariah replied when the venerable TV interview asked the big question.
While Mariah may joke about the subject, that doesn't mean she doesn't want kids — just that promoting Precious and her newest singles are her priority right now.
Article continues below advertisement
"It would be the happiest thing in my life but what I'm saying is right now with this movie coming out, with the next few singles from the album and those things that I'm doing, I need to focus on that because I cannot do the having-a-child thing halfway," admits Mariah, adding that she wants to be a hands-on, devoted mom.
"I wouldn't be just like, 'Oh, I'm having a child, yay! Let me get a nanny so I can give her the baby. Take the kid.'That doesn't work for me. I don't believe in that."