NEWS
Mariah Carey Plays Coy About Her Baby's Sex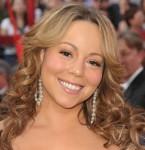 After keeping her pregnancy a secret, Mariah Carey is now happy to discuss her bump, telling Ellen DeGeneres about morning sickness and whether she knows the sex of her baby.
The diva, who's expecting her first child with husband Nick Cannon, glowed with health but she admitted, "I get a little nauseous. It's like a constant ugh..."
OK! NEWS: MARIAH CAREY CONFIRMS PREGNANCY; DUE IN SPRING
Discussing the pregancy on the Ellen DeGeneres Show, Ellen asked if she could guess the sex of the baby but Mariah politely declined.
Article continues below advertisement
"I would prefer not," she said. "Because imagine if you're a baby inside someone's body. Do you really want someone imposing their sex ideas on you? Not really? I'm just saying. Would you want them to be like it's definitely a girl... would you?"