NEWS
Mariah Carey's "Rancid" Performance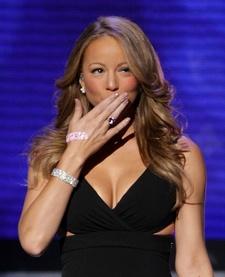 With millions of fans around the world and the most #1 singles of any artist in history, you wouldn't think that Mariah Carey would need the approval of the judges on American Idol. But that's exactly what happened following her performance on Wednesday night.
The divalicious singer, who was the guest celebrity mentor on this week's edition of Idol, appeared on stage for Wednesday's results show to perform her hit single "Bye Bye."
Article continues below advertisement
To make matters easier for everyone, Mariah's portion of the hit show was shot about 40 minutes before the beginning of the live broadcast. To warm up, she did a quick run-through — only singing about half of the song — before shooting the version of the song that would air last night.
Mariah, looking fit as ever in a form-fitting black dress, had the audience cheering wildly with each high note she hit. But despite the overwhelming applause at the end of the song, the platinum-selling superstar began speaking urgently to producers, who wrangled Randy Jackson and the other judges to get their opinions.
"It was great," said Randy, who has known the Long Island native since before she was world famous.
But Mariah apparently had a different opinion of her performance. "The ending was a little rancid," she countered.
"No, it sounded good," assured Randy and his fellow judges, prompting cheers from the audience.
Remaining by her glittering mic stand for a few moments, Mariah accepted Randy's assessment before thanking the crowd and making a sharp exit from the stage.
Mariah's new album, E=MC2, is in stores now.