NEWS
Mariah: I'm In Love With My New CD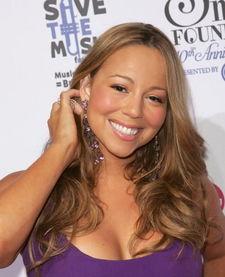 While many in April 2005 were anticipating the release of Mariah Carey's CD The Emancipation of Mimi, very few could have anticipated the international music juggernaut that was about to be unleashed on the world. Ultimately, the album would not only revive Mariah's then-wavering career, but would also go on to sell more than 6 million copies and take home armfuls of awards.
But that was 2005. What has Mimi been up to lately?
Article continues below advertisement
"It's hard for me to sit here and talk about it without sounding like I'm bragging," Mariah recently said about her upcoming, as-yet untitled CD. "But I'm in love with this album."
And, according to Mariah, a lot of the joy she's had in recording this newest batch of music, scheduled for release in early 2008, comes from her experience with Emancipation. "Having the success of the last record allowed me to have more freedom," the 37-year-old beauty explained. Now, Mariah says, "I just make records that I like."
As for how she'd describe the upcoming CD, the Grammy winner says it's a "really fun record!"