NEWS
Mariah: "People Think I'm a Ditzy Moron"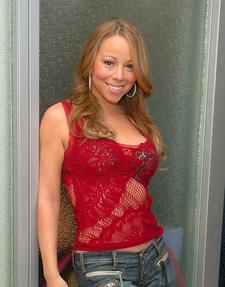 "I understand that people think I am a ditzy moron," platinum-selling diva Mariah Carey confesses in the next issue of Allure. And this misconception about the pop superstar has cast a shadow over her whole life.
"I've always had really low self-esteem," she admits. "And I still do.''
And even when Mariah does get the positive attention she requires, it only makes her personal life more complicated. "Being on-stage, and the love that you get, and the adoration that you feel from your real fans. It's hard for a partner to compete," the singer explains. "Just imagine.''
Article continues below advertisement
That's why the 37-year-old, who split from ex-hubby, Sony Music honcho Tommy Mottola, over 10 years ago, says any man wishing to win her heart had better understand the unique difficulties faced by one of the most famous women on the planet. "That's a big deal for me: feeling like somebody else can't fully understand me because they're not in show business," Mariah says. "It shouldn't matter, but it does, because the energy it takes to be 'on' is a lot."
The April issue of Allure hits stands March 25.