NEWS
Marie Osmond: Donny Couldn't Handle DWTS!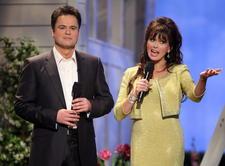 Her headline-making run on the last season of Dancing With the Stars was a huge boost to the career of Marie Osmond. But don't expect her brother Donny Osmond to slip on his dancing shoes anytime soon.
"I don't want to show her up," Donny told OK! about why he wouldn't try out for the hit ABC ballroom dancing show. However, Marie, who came oh-so-close to winning last year, says he's not telling the whole truth.
Article continues below advertisement
"He couldn't do it," she explains. "It's too hard. He can't stand it if his toenail is broken!"
Another thing that Marie says might be too hard for Donny — or any man — is motherhood. "It's the most underpaid, thankless job on the planet," she told OK!, before adding, "I love it."
As for how the single mom and entertainer balances the demands of motherhood and performing, Marie, who co-hosted this weekend's NBC special, Teleflora Presents America's Favorite Mom, with Donny, explains, "You just wake up everyday and give it a shot."
And what advice would Marie give to other mothers? "I don't," she states. "I wouldn't. Every mom is different."
By David Lasky