NEWS
Is Marie Osmond the Next Oprah?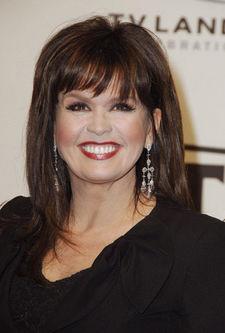 The new cast of Dancing with the Stars will be revealed tonight, but who can forget last season's most-talked about names, especially one Marie Osmond?
The entertainer, who finished a surprising third on the program, joined fellow alum Cameron Mathison for an interview in which the soap star asked if she would participate in a Dancing All-Stars show?
"Only if you do it," she says.
One person who won't be doing any Dancing of any kind is her brother Donny, who was long-speculated to have made the DWTS shortlist for this season. "They are rumors," Marie says.
Article continues below advertisement
Don't expect Donny on Marie's upcoming daytime talk show either. Although they have teamed up for two versions of Donny and Marie in the past three decades, Marie says she'll be on her own for The Marie Osmond Show, launching in 2009.
"The problem is Donny's not very articulate…If he were there, it'd be a different kind of talk show," she laughs.
So can we expect Marie to dethrone Oprah Winfrey as the Queen of Talk?
"Absolutely not," she says. "Oprah's amazing. She brings perspective but our hearts are similar because she does all her charity."
The 48-year-old, who lost 40 lbs during her Dancing days, also discussed growing up in show business -- past and present.
"The difference is that our homes were more solid back then so we had a place to fall back on. So, that's what's concerning. These kids current celebrities don't have that stability. They're kind of raising each other."
For more on Marie, tune in to Extra tonight!