NEWS
Marie Osmond Passes Out on Dancing With the Stars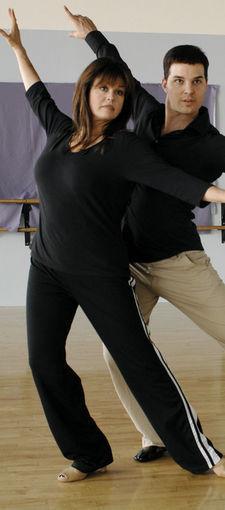 As always, OK! was backstage on Dancing With the Stars Monday night, and we were the first to update you when Marie Osmond suffered her shocking collapse while facing the judges. Thankfully, the singer turned out to be okay, and her caring dance partner, Jonathan Roberts, revealed all the drama to OK!.
"All of a sudden Marie just passed out," Jonathan said about Marie's post-samba fainting spell. "I could tell about halfway through the dance that something was wrong because her breath started getting really short and she started missing some of her steps... I knew she wasn't quite there, but I had no idea she was going to pass out."
Article continues below advertisement
And lucky for Marie Jonathan was at her side. "Thank goodness I was holding her," he reveals to OK!. "If I hadn't been holding her, she could have seriously damaged her head by falling. I felt her go and I caught her with my hand and she still bumped the floor a little bit, but I think I broke most of the fall," a still-shaken Jonathan told OK!. "She was just out — it seemed like forever. Her son and two of her daughters were here. They rushed over. Paramedics were checking her, saying, 'Marie, Marie, wake up,' and she wasn't moving.
"All of a sudden she moved a little bit and I saw her eyes open and she realized she was upside down and she said, 'Oh, crap!'
"Marie is such a professional. We went backstage and she said, 'I'm going to get my scores. I'm going to hear it. I'm going to do the interview backstage.' I'm really proud of her," Jonathan said.
The professional dancer thinks Marie fainted because "she has a little bit of asthma and with all the fires in Malibu, the air is bad in Los Angeles. This competition is just so tough and she really wanted to do well. She was first out; there's a lot of pressure and she just forgot to breathe. All those things added up to no oxygen."
Jonathan said Marie, who has also lost more than 20 pounds while doing the show, plans to perform the paso doble next week if she avoids elimination Tuesday night. "She's a trouper. Please vote for us," Jonathan told fans of the hit ABC reality show.
By Carole Glines