NEWS
Marie Osmond on Son's Suicide: "My Son Was Not Gay"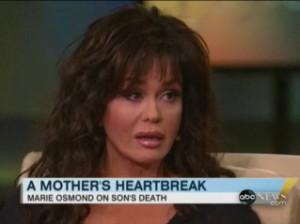 For the first time since her son Michael Blosil committed suicide, Marie Osmond is facing the cameras and speaking about the tragedy with Oprah Winfrey. One of the reasons she's speaking out is to put a stop to the rumors that her son was gay.
OK! NEWS: MARIE OSMOND'S SON DID NOT TAKE DRUGS BEFORE COMMITTING SUICIDE
On Feb. 26, Marie's 18-year-old adopted son jumped from his high rise apartment after suffering from depression.
Article continues below advertisement
Michael had told his mother he was feeling depressed and felt like he had no friends. Marie told him she'd be there to see him in L.A. on Monday, but Michael killed himself on the Friday before.
"I've been through some tough things in my life, Oprah," Marie says on today's episode of The Oprah Winfrey Show (via CBS News). "This is probably the hardest thing I've been through."
"I told him," she said while crying, "Sorry. I told him, I said, 'Mike, I'm going to be there Monday and it's going to be OK.' But depression doesn't wait 'til Monday."
"When I heard him say to me, 'I have no friends,' it brought back when I went through depression because (you), you know, really feel so alone," Marie explained. "I'm not a depressed person, but I understand that place, that darkness."
OK! NEWS: MARIE OSMOND'S SON COMMITS SUICIDE
Marie suffered from postpartum depression after the birth of her third child, but denied the reports that she had attempted suicide.
Article continues below advertisement
"And if I went through that whole experience just to understand my son, it was worth it to me," Marie said of that time.
And Marie told Oprah (via ABC News), "My son was not gay,"
"He wanted to be married and have a family and travel all over the world. And it wouldn't matter if he was," she added. "I have a daughter who is gay, and it was my daughter who was offended by it, like, 'What? All gay kids commit suicide?' She really wanted it cleared up."
OK! NEWS: MARIE OSMOND CANCELS LAS VEGAS PERFORMANCES
"Are you still in the 'what ifs? What if I picked the phone?" Oprah asked Marie. "What if I had done...' Have you been able to make peace with the fact that you did everything that you could do?"
"I think," Marie explained, "there's always 'what ifs — 'What if I had just put him on a plane and said, "Come be with me?" ' Or gone there? I think if you live in what ifs, you stop living."