NEWS
Marilyn Manson is Moving On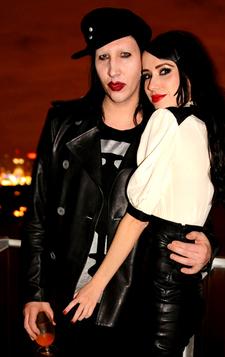 Marilyn Manson seems to be moving with lightning speed, scooping up a new dark-haired galpal just a month after splitting with Evan Rachel Wood.
The pale rocker was seen out and about on Wednesday night with a lovely lady named Isani (who could be a dead ringer for either Dita Von Teese or Evan Rachel), kissing and cuddling with at Louis Bar-Lounge at the Gansevoort South for his Art Basel party in Miami's South Beach.
Article continues below advertisement
The night before going officially public at Louis the lovebirds had a more low key date night at Asia de Cuba in the famed newly opened Mondrian hotel. Marilyn knows how to impress the girl of his dreams, a fellow diner tells OK!, "He even brought his own absinthe!" After a quick dinner Marilyn was seen having cocktails at the Sunset lounge to keep them occupied before heading back to their own hotel and getting a good nights rest.
Don't expect Evan Rachel to be boo-hooing over her ex's swift turnabout, however: the 21-year-old actress recently said she's doing just fine.
"It happens," The Wrestler star said at the Gotham Independent Film Awards held in NYC Tuesday. "I feel a lot better now than I thought I was going to. It was hard at first, but I've kept my chin up and it's just fun now. I only have to answer to myself, and it's great."
Evan Rachel also tossed a hint to OK! that Marilyn might not have been the best boyfriend for a girl to have anyway.
"There have been people I've been extremely close to that I've had to cut off because I was getting hurt over and over again, and no matter how much I loved them, I couldn't deal with it," she told OK!.