NEWS
Marisa Tomei Bares All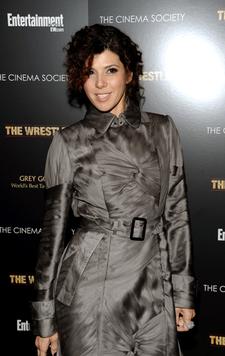 In the upcoming film The Wrestler, Marisa Tomei strips down as an exotic dancer in a relationship with a down-and-out pro wrestler (Mickey Rourke). It's not the first time the actress has gotten naked in a film (she has an explicit nude scene in Before the Devil Knows You're Dead), but Tomei is the first to admit she's no exhibitionist.
"I'm uncomfortable with exposing myself," she tells Parade.com. "But in these films I think what I did was appropriate and I'm proud of it. Actually, I 'm concerned with a lot more than how my body looks. I just find it really hard to watch myself in general. But being nude was weird. And now I'm seeiming like the actress who does that, which wasn't my intention."
Article continues below advertisement
Marisa, 44, who bares an amazing figure in the film, attributes good genes and, believe it or not, hula hooping!
"I have a travel hoop. You can twist it in half but it's adult size, not like a little kids hula hoop," she says. "It's really good for your core strength."
Tomei says she and Rourke "were on the same page from the beginning" when making The Wrestler and despite reports that he was difficult to work with, she says, "It was like, 'Bring it on'. We just jumped in with each other and he just slipped into his role seamlessly."
So will Marisa be making any mainstream films in the future?
"I do things like The Wrestler for not a lot of money and then I get p.o.'d at myself and think, 'I've got to make more of a living than this,'" she says. "I show up a lot when other actors won't. There's a lot of downside to it. Not a lot in the scheme of life, but in terms of comfort and money and risk."
She continues, "Sometimes when I get really worried, I think, 'I can still get a job.' But a lot of it is luck. There's all kinds of pressures but if you start really thinking about those pressures you're really missing the point of why you wanted to act in the first place.