NEWS
Mariska Hargitay Speaks Out On Christopher Meloni's 'Law & Order: SVU' Departure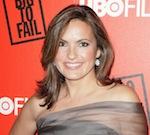 With reports recently swirling of both leading Law & Order: SVU stars planning to leave the seasoned series, it wasn't the biggest shock when Christopher Meloni officially decided to announce the end of his twelve year stint on the show this week. According to new reports, co-star Mariska Hargitay spoke out on her reaction to the 50-year-old's resignation on Friday.
"For the past 12 years Chris has been my partner and friend, both on screen and off. He inspired me every day with his integrity, his extraordinary talent and his commitment to the truth," Mariska, who plays Detective Olivia Benson on the NBC show, explained to TVLine of working with the actor.
Article continues below advertisement
OK! NEWS: JENNIFER LOVE IS LAW & ORDER LOVELY
Markisa has officially signed on for a thirteenth season of the series, but rumors of new additions to the police drama, such as Jennifer Love Hewitt, are still abuzz.
Law & Order: SVU's thirteenth season is set to air on NBC at 10 PM this fall.