NEWS
Mariska Hargitay, Tim Gunn Get GLAAD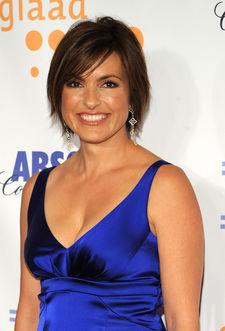 Mariska Hargitay, Alan Cumming, Graham Norton and Project Runway star Tim Gunn step out for the GLAAD Awards held at Marriott Marquis in NYC.
"Whoever can say my name gets a smile," Mariska chuckles to photogs, as she clutches her hubby Peter Hermann.
How does it feel to be back to work on Law & Order: SVU?
"Awesome," she says.
"Hi, hi, hi," Alan says. The actor, who is legally wed to his partner in Europe, urges closeted gays to come out.
Article continues below advertisement
"I think it's a great thing to be able to live the life you want to live and not to have to lie. I feel sad for people who are not able to do that. As a performer, I think all the stuff that people say about 'it will affect my career,' I think that's just stupid. A) It's all hypothetical and b) Do you want to have a career that is about lying and living a lie and not being the person that you are? I don't think people care that much about who's gay and who's straight when they go and see a film or a play."
BTW, he tells me his Gray Matters co-star Bridget Moynahan is "lovely" with her 7-month-old son John.
How does Tim feel about being a role model for the gay community?
"It's the greatest honor I have," he says. "I mean that. I am so proud that people see me that way, and so proud that people respond positively to who I am, because I can only be who I am. I know how in need I was of positive role models when I was growing up. It was not easy. You had Paul Lind and I didn't want to aspire to that, so I'm very touched by it."
Article continues below advertisement
Despite hosting his own show on BBC America, Gucci-clad host Graham admits he's stressed about heading up the evening.
"I think this is harder. It's a big live event, and I don't know this audience. I don't know who's going to be there. I'm sort of out of my comfort zone. My own little show, I just roll out of bed and do it."
Xanadu star Cheyenne Jackson says he feeds his dog Zorra his protein shake. "I dribble it in a like a mama bird," he says. "She's mostly Rottweiler, with Labrador, maybe Doberman. We don't know for sure. There is a $60 test you do — you swab the inside for their mouths, and send it away. They'll tell you exactly what's in your mutt. It's kind of fun not to know, but I kind of do want to know."
I bump into Mariska and hubby and Alan — holding a glass of chardonnay — again at the cocktail party. Time to join Kevin Bacon, Kyra Sedgwick and Barbara Walters inside.