NEWS
Mariska, Rachael Shine at Gracie Awards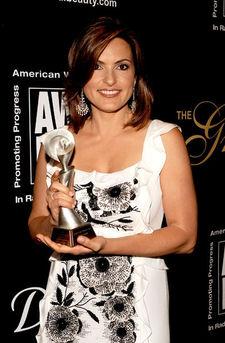 Mariska Hargitay and Peter Hermann elevator up with me to the Gracie Awards held Wednesday at NYC's Marriott Marquis. Peter is my reigning favorite celebrity husband. He's always sweet but never overshares, and Mariska is equally delightful this evening.
Who's the funniest woman in Hollywood?
"I don't know," Amy Poehler, who is being honored for her online series Smart Girls at the Party, tells me. "You should answer."
Article continues below advertisement
Kathy Griffin bawdily greets Suze Orman. "She has a ticket, I don't have a ticket," the Life On The D-List star says before giving her acceptance speech laced with f-bombs. "I don't have it together, she does. We're like the odd couple. She's Felix, and I'm … I don't know. She's the rich one."
Rachael Ray gives props to her mom for inspiring her work ethic. "She taught me that having a rich life has nothing to do with your bank account," she says.
Real Housewives of New York are everywhere, but Bethenny Frankel is nowhere to be found. Jill Zarin, joined by sister Lisa Wexler, makes a plea to be featured in the fashion pages wearing her gold Marc Bouwer gown.
"I'm begging you," she says. "I've never made it. Bethenny's always in those magazines in glam photos, and I've never made it yet. God forbid, if this is the last photo of me while I'm alive – you never know what tomorrow brings -- this is the dress I want to be buried in."
Article continues below advertisement
True Jackson, VP star Keke Palmer gets cagey when asked for the most inspirational woman she has met or would like to meet. "I've met some pretty amazing women already. I met Maya Angelou, Cicely Tyson, I met Michelle Obama, I don't know who else I could meet. Man! I met Oprah. I met them. I'm lucky! I don't think I can pick one because they're all inspirational in their own way."
Dinner is served. Tonight it's steak, cheese rice, red pepper, green beans and assorted desserts. Mmm, delish.
Ooh, another gift bag. This time, it's all about the thank you notes, Reader's Digest, Dove Go Fresh cool moisture beauty bar with cucumber and green tea scent; Dove fragrance infusion cream oil body wash; Dove intense damage therapy conditioner, Dove Pro-age hand cream and Dove clinical protection deodorant. Alright!
The Gracie Awards Gala recognizes exemplary programming created for women, by women and about women in all facets of electronic media, including radio, television, cable and new media.
SEE MORE PHOTOS IN THE VALERIE GALLERY: