NEWS
Marissa Jaret Winokur Wants More Kids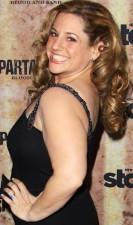 Marissa Jaret Winokur used a surrogate to conceive her son Zev, 19 months, and now she's ready to make a new addition.
"Of course," the former Dance Your Ass Off star, 37, tells me. "I'm actually really happy with just my one son, but I can't imagine my son growing up without any siblings. I'm the youngest of four. I have a really supportive family. For my son, I want him to have what I have with my siblings."
Article continues below advertisement
Hubby Judah Miller, whom she married in 2006, is game.
"We are the yin-and-yang, man," she says. "He is the perfect balance. He's calm and he's sweet, and when I look at my son and my son does something sweet and calming, I'm like 'that's my husband.' I'm sort of a spazz and a little loud, and he's calm and collected. He never panics, never freaks out. He's a procrastinator, which is great because I'll just do everything without thinking. He's my best, best friend. He's definitely my best friend first."
She continues, "I can't imagine women who have to do it without a supportive husband. I always knew I wanted to be a mom, but I never knew how hard it was. It's really hard, but it's the best thing. I wouldn't change it."
For Marissa, surrogacy was her only option to conceive. The Tony award winner underwent a hysterectomy when she was diagnosed with cervical cancer at the age of 27.
What would she tell other women considering surrogacy?
Article continues below advertisement
"The biggest thing about finding a surrogate is finding someone who's compatible and wants the same things," she says. "That's what's most important. Having a surrogate is a life-changing experience. At the end, you're going to have a baby. For me, my surrogate is still in my life, my surrogate is still 100% part of my son's life. That's how I wanted to deal with it. Other people don't want to deal with it."
She continues, "For people out there who don't understand surrogacy, it's very important that they understand it's not about someone in Hollywood who doesn't want to gain weight. It's not like Sarah Jessica Parker didn't want to have her own baby. For everybody that has a surrogate, that was their last chance. That was their last option – that was their only option. It's the most amazing, wonderful thing, but it's also a really  hard decision to make because you're trusting the most important thing to somebody. For me, that was the only way I was going to have a baby, so I was like 'I'm in, let's go.' There was no looking back. But for a lot of women, there are lots of different options, so it's important to figure out what's the best option for them."
Here's my pic with Marissa: