NEWS
Marja Vongerichten Says Hugh Jackman's a "Big Baby"… In the Kitchen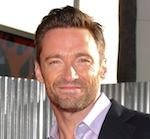 Hugh Jackman plays tough guys on the big screen, but how does he stack up against some spicy foods in the kitchen? Turns out the ripped star is a "big baby," joked Marja Vongerichten, who featured the Reel Steel hunk in her PBS miniseries the Kimchi Chronicles, based on the book that's also named The Kimchi Chronicles: Korean Cooking for an American Kitchen.
"I called him a big baby because but he's this guy who's an action hero, and so tough. And you know, he could barely touch a hot piece of lobster," Marja joked to OK! in a phone interview on Friday. "I didn't even make the dish that he tried as spicy as I usually eat it, but he really can't handle spice. It was kind of a surprise."
Article continues below advertisement
OK! NEWS: HUGH JACKMAN & JIMMY FALLON DECLARE INTENSE LATE NIGHT WATER WAR!
According to Marja, Hugh saves his Wolverine-esque slicing and dicing skills for his X-Men films. "When I think of Hugh I just think of this wonderful family man," said the Marja, who is neighbors with Hugh and his wife Deborra-Lee. "He's not
Wolverine at all."
So what kind of guy is Hugh like to cook with? "He's good on the grill with some steak or chicken. He's the perfect person to cook with," said the celebrity chef.
Perfect enough to woo his future wife, in fact! In Hugh's recent appearance on Jimmy Fallon's talk show, he spilled that Deborra-Lee turned down a dinner invitation with Mick Jagger to have dinner with her future husband instead.
OK! NEWS: HUGH JACKMAN ON FAKING LOVE SCENE WITH JENNIFER GARNER - "KIND OF HUMILIATING"
Famous friends like Hugh and Deborra-Lee aren't the only ones who have been featured on the series. She brought her husband, A-list chef Jean-Georges Vongerichten and actress Heather Graham to film in Korea, as well.
Article continues below advertisement
The show follows Marja's return to Korea where Marja was born to a South Korean mother and an African American father, and was adopted by Americans when she was 3-years-old. During filming she got the chance to rediscover her Korean heritage through its rich and spicy cuisine.
Marja has been overwhelmed by the success of the show and is pleased by how many people have reached out to her. "It's been more than just a show about food, it's opened up a discussion about culture, how we view ourselves and stuff that people go through to get where they are. It's been fantastic."