NEWS
Mark Consuelos: Our Kids Are Growing Up!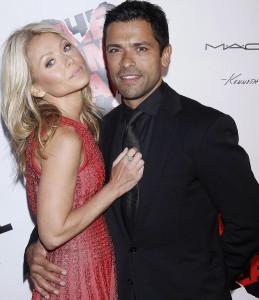 As summer winds down, Kelly Ripa and Mark Consuelos are getting their kids ready for back-to-school season.
One thing the doting dad dreads is helping Michael, 14, Lola, 10, and Joaquin, 8, with arithmetic.
"Unfortunately Michael surpassed my math knowledge last year," the actor, 40, tells me at a Pampers Little Miracle Missions event in NYC. "I'm still good with the Joaquin. I'm good at fractions. Whenever you start getting into algebra and a little past algebra, that's where you're getting past my level."
Article continues below advertisement
Still, one bonus of the kids growing up is that the twosome gets more couples time.
"I think it's getting easier now that they're getting older," he says. "There's still a responsibility, but we sneak off for a date night here and there with dinner – with just us or some friends. They're so busy now with other activities that sometimes we're not invited to, our kids, so we have some free time all of a sudden."
He adds, "Camp is an amazing thing. When the kids go to camp in the summer, we were so against it initially, and then we were like 'wait a minute. We can have some time to ourselves!' Day camp, sleepaway camp. You always have some time to yourselves."
Here's my pic with Kelly:
Catch Kelly and Mark 's new E! reality show, Dirty Soap, which begins next month.