NEWS
Mark-Paul Gosselaar's Kids Fear Santa; He Fears Dustin Diamond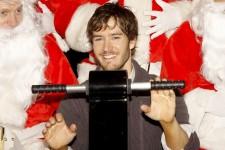 Mark-Paul Gosselaar is soaked with sweat when we meet during the Duracell Power Lab held this week in NYC's Times Square.
The actor, 35, faces off against another cyclist in an effort to power the 2010 sign this New Year's, and wins.
"I don't like losing," he tells me. "He wanted a challenge, and I gave him one."
Placing second wouldn't look good to his family, which includes wife Lisa, whom he wed in 1996, son Michael, 5, and daughter Ava, 3.
Article continues below advertisement
The family looks on as Mark-Paul poses with a group of Santa Clauses.
"Holiday traditions in our home have not been to go see Santa because our kids are actually afraid of the Santas that they see in the malls," he tells me. "We generally stay away from them."
One person who's not on Mark-Paul's list this year is former Saved By The Bell co-star Dustin Diamond, 32, who played Screech on the show that aired from 1989-1993. He scoffs when asked if they're still friendly after Dustin penned the scandalous tell-all Behind The Bell.
Hm, would Mark-Paul ever write a tell-all?
"No, I would never do that," he says. "It's an unwritten rule that you don't write tell-alls about your peers -- unless you don't want to be in the business anymore. Truthfully, I haven't worked on anything that I feel it's necessary to write a tell-all. I have stories, but it's not anything that anyone else needs to know. Whatever happens on the set stays on the set, and you deal with it."
Article continues below advertisement
His former Saved By The Bell co-star Tiffani Thiessen, however, gets his best wishes on her pregnancy, which she announced earlier this month. Tiffani, 35, has been married to hubby Brady Smith since 2005.
"I congratulated her via e-mail," he says. "I think she'll be a great mom. She and her husband are great people, and Tiffani's a great person. I'm proud of them, and I wish nothing but the best for them."
These days, Mark-Paul is busy improving the acting chops he honed on Saved By The Bell by performing on Broadway in The Understudy.
He shares, "I grew up in front of an audience – I grew up on a sitcom, so I was very comfortable in front of audiences. I had to break the fourth wall on Saved By The Bell, and talk directly to the audience. I was always very comfortable with people looking back at me. That wasn't as daunting as I thought it would be because my experiences came back to me while I was doing the previews."
Article continues below advertisement
He confesses rehearsals were difficult for him.
"I used to look at rehearsals as something that isn't always necessary in television. We get there, and rehearsals are a way for everyone to come together, make sure we hit our marks and we know our lines. If we know our lines, we know the gist of the scene, and we'll go ahead and roll film, and we'll do a couple takes. If it's not good, we'll do another take. But in theater, there are month-long rehearsals where you're giving a performance almost every day. Every second, you're giving something."
He continues, "You can't hold back, and I was holding back quite a bit in rehearsals, and Scott Ellis, the director – brilliant director – really helped me with that by saying 'Mark-Paul, you cannot do that in rehearsals. You cannot wait until the performance to give a performance, and you cannot wait to get in front of the audience.' I learned how to not be afraid to take chances in front of other people, and take notes. It was OK to make mistakes because that's what rehearsals are for, but in television and film – at least the things I've done – the rehearsal process hasn't been as demanding."
Here's a pic of Mark-Paul and I. I feel like I've known him my whole life thanks to his turn as Zack Morris on Saved By The Bell.
Witness Mark-Paul's footwork on display when the ball drops on New Year's Eve. During the Duracell Power Lab, he pedaled a Duracell Power Rover to fuel the 2010 numerals. Also, catch Mark-Paul in The Understudy through January 17, 2010, and on TV in TNT's Raising The Bar.