NEWS
Mark Wahlberg Tells Leonardo Dicaprio Their "Careers Are Over" Because of Taylor Lautner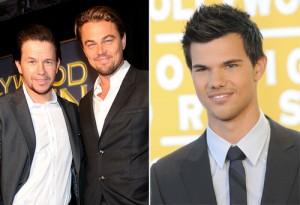 Taylor Lautner is hot on the heels of A-list actors Leonardo DiCaprio and Mark Wahlberg — this, according to Marky Mark himself!
"I am sitting at a table with a gentleman who is better looking than you and is in better shape than me," Mark said to his good pal Leo yesterday the Hollywood Foreign Press Association's annual luncheon in Beverly Hills, via E! News. "So, we're both out of a job, dude. Taylor Lautner! We're screwed."
Article continues below advertisement
"It's over, dude," he added to the laughter of all the other actors in the room. "Titanic and Boogie Nights were a long time ago. I accept it. I had a good run and on to the next."
And Taylor was humbled and almost embarrassed by all the positive attention.
"I don't even know the word to describe being here," Taylor told E!. "It's so odd. It's such an honor. I'm up on the stage and talking in front of people like that? The people that I looked up to my entire life? Hearing words like that from Mark and everybody it's just really surreal."
The Twilight heartthrob also made quite the impression on Glee star Lea Michele.
She introduced Taylor to the stage by saying, "I promise to control myself, here is Taylor Lautner!"
After hugging Lea, Taylor spoke on stage about receiving a grant for and on behalf of the Sundance Film Festival and said, "I am so honored to be here today to accept this very generous grant!"