NEWS
Mark Zuckerberg Has No Status Update For 'The Social Network' Oscar Nominations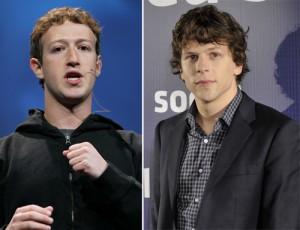 The Social Network has been thanking Facebook's founder Mark Zuckerberg in their acceptance speeches during awards season. So now that they film has been nominated for eight Oscars, does Mark have anything to say or a status update to post?
OK! GALLERY: PHOTOGS FIND FACEBOOK FOUNDER ON THE PHONE
It seems The Social Network stars have been trying to play nice with Mark since the film doesn't show him in the best light, but the billionaire isn't biting.
Article continues below advertisement
"We've said all we're going to say about the movie and the books," a rep for Facebook told The Hollywood Reporter. "We've moved on from this discussion, and we think others have, too."
So it doesn't sound like the cast will be receiving any congrats from Mark.
OK! NEWS: STATUS —FACEBOOK CLOSING DOWN ITS EMPIRE?
But Jesse Eisenberg, who plays Mark in the film, has said he was told Mark was okay with his portrayal.
"My cousin sent me a text message telling me that Mark liked the parts that the movie got right and he thought I did a nice job," Jesse said of his cousin who works for Facebook.
And Mark did previously tell Oprah Winfrey he views the film as just as, well, a film.
"It's a movie, it's fun ... I can promise you, this is my life so I know it's not that dramatic," he said. "The last six years have been a lot of coding and focus and hard work, but maybe it would be fun to remember it as partying and all this crazy drama."
At the Golden Globes, producer Scott Rudin said, "I want to thank everybody at Facebook — Mark Zuckerberg for his willingness to allow us to use his life and work as a metaphor through which to tell a story about communication and the way we relate to each other."