NEWS
Markai Explains Her Relationship With James in Last Night's '16 and Pregnant'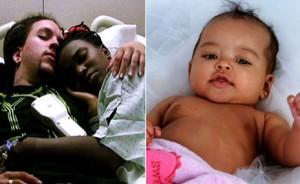 Markai did not have an easy pregnancy in last night's episode of 16 and Pregnant. The young mom battled weird cravings for soap and fighting with her boyfriend James. But Markai gave birth to daughter Za'Karia and says her story is only getting better in a post-show interview with MTV.
OK! EXCLUSIVE: INSIDE BENTLEY'S 2ND BIRTHDAY PARTY!
Markai sat down to chat with MTV about how her life is after her pregnancy and says she has no regrets.
Article continues below advertisement
"My child made my life better to me," Markai said. "Without her I don't think I would be here right now. I honestly don't because I was the type of person where I did drugs, I partied all night, never slept, never went to school. I'd probably would have been a bum on the side of the street."
OK! NEWS: ALL NEW TEEN MOM 2 COMING TO MTV IN JANUARY
Markai and her daughter's father James had explosive fights during her episode, but now they're doing much better.
The teen mom says they're living together in their own place and are both employed, but their main focus is to try and finish their education.
What did you think of last night's 16 and Pregnant episode?
Watch the interview below!
And check out a bonus scene where Markai and James buy a new care below!