NEWS
Marlee Matlin: How I Lost 18 lbs!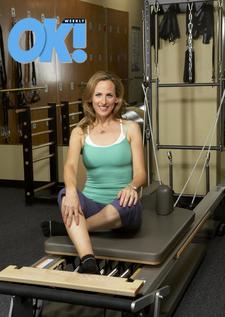 Marlee Matlin has inspired so many people by not letting her hearing disability prevent her from competing on DWTS. Although she can't hear the music, the Oscar-winner and mother of four decided last November to slim down before joining the dance competition.
OK! met up with her at her gym in Pasadena to learn the secrets of her 18-pound weight loss and how she keeps it off.
Article continues below advertisement
When did you gain the weight?
When I had my kids Sarah, 12, Brandon, 7, Tyler, 5, and Isabelle, 4. During one pregnancy I gained close to 60 pounds. It was a combination of bad eating and a lack of exercise.
How did you lose the weight?
I started a program to get toned for the holidays. When I combined exercise with the Zone diet, the weight began coming off. NOw I weigh 112 pounds, and at 5 feet 3, that's about right.
Why is dancing such great exercise?
Dancing is like Pilates, jogging, weight training, aerobics and yoga all rolled into one. I love it!
What will you do after DWTS?
Continue to work and show people my stuff. I just hope that after DWTS, there's certainly no need to think, "Can Marlee do this?" I think I've proven I can do anything.
For more with Marlee, check out this week's issue of OK!