NEWS
Marlee Matlin Steals the Show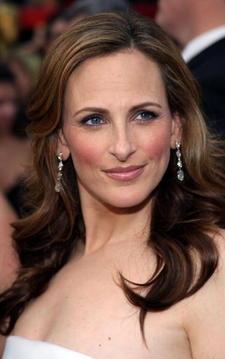 Marlee Matlin stole the show on Dancing With the Stars women's night as the Oscar-winning actress proved she has loads of rhythm, despite being hearing impaired.
The L Word star received a standing ovation from the audience after her cha cha and the judges praised gave her a solid score of 22 out of 30.
And when OK! talked to Marlee backstage after the show, she was still reeling from the experience. "I don't remember a single step I took," Marlee told OK! through her sign language interpreter. "It's all a blur. It's just like when I gave my acceptance speech for the Oscar — I don't remember what I said. What happened?!
Article continues below advertisement
Though Marlee's lack of hearing is the topic on many DWTS fans' lips, the actress tells OK!, "It's funny — I know I'm deaf but I don't think of myself that way. I lived as a deaf person all my life so I wouldn't know any other way of living. I respect the feeling of awe that people have saying, 'Oh, my God, there's a deaf woman dancing.' I would probably feel the same if I were a hearing person, too. But this show brings together people of different backgrounds. We all have our disadvantages of one sort or another."
Marlee added, "I felt like I was on cloud nine. I felt like, okay, this is what it's like dancing live in front of millions of people."
The star gives all the credit to her dance partner, Fabian Sanchez, who guides her in time to the music. "He leads me as any man should lead a woman in a ballroom competition," Marlee explained to OK!
Meanwhile, ice skater Kristi Yamaguchi got the high score of the night and Priscilla Presley, the show's oldest ever competitor at age 62, also impressed the judges — with her famous daughter Lisa Marie Presley sitting in the audience.
Next week, all the men and women perform one more dance and then there's a first time ever DWTS double elimination — on next Tuesday night's show, one guy and gal both must go home.