NEWS
Marlo Thomas and Phil Donahue Share Marriage Advice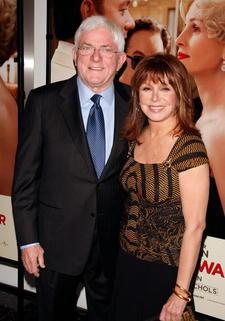 Sometimes Hollywood couples do last. Marlo Thomas and talk show host Phil Donahue have been married for nearly 28 years and together for 30 — a rarity in tinseltown. So what keeps them together for so long?
"We listen to each other, and we're able to fight without going to war," Phil tells OK! at the National Board of Review awards. "We respect and love each other. Try that — see what happens."
Supporting each other is important as well. Phil, 72, came out to receive an award from the Producers Guild of America for his upcoming documentary Body of War, and Marlo was equally stoked about the achievement as he was.
Article continues below advertisement
"We're excited about each other's accomplishments," she tells OK!. "I'm as excited about this event tonight as if it were my very own. It's very, very exciting to see Phil be recognized for something he's worked so hard for."
And with Valentine's Day approaching, the couple — who first met when she appeared on his talk show in the '70s — has even more to celebrate. While they didn't divulge their plans, the two did share their favorite V-Day of years' past.
"We went for a balloon ride," Phil says.