NEWS
Marriage? "I'd Rather get Run Over by a Train"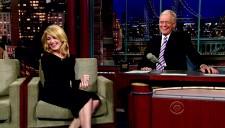 Madonna may be the most eligible single woman in the world but she will never say her "I do's" with Brazilian toy boy, Jesus Luz. "I think I'd rather get run over by a train," she declared on the Late Show with David Letterman, Sept. 30.
Looking chic and sophisticated, Madonna, 51, (sounding American again, after years of speaking with an affected English accent) joked that she'd been living in London with her ex-husband Guy Ritchie, "during the Bush years, it was a good time to be out of America."
Article continues below advertisement
Although she admitted, "That said I do miss things about being married. Being a single parent means you're in charge of everything.
"You can't say, 'Hey can you give the kids a bath?' There's no job sharing."
But will the singer, who's been dating model Jesus, 22, for nine months, fall in love again? "I've lost perspective," she replied, "I don't know."
When David, 62, addressed her as "Madge" the Material Girl— who has 200 million album sales under her belt — replied. "You know that's one of the reasons I left England, so I don't have to hear the word Madge again.
"People say it means two different things. Some say it is a colloquialism for a boring middle-aged housewife - others say it is short for majesty."
There's no way you could describe this mother-of-four (to Lourdes, 12, Rocco, 9, David, 3, and four-year old Mercy who she adopted from Malawi this year) as a boring housewife.
Promoting her new greatest hits collection, "Celebration", released this week. The diva mentioned her life changes since she last appeared on the show in 2007. "Last time I was on I had three kids and I was married and you had one kid and weren't married,' she joked to David, who wed his long-term love Regina Lasko in March.
Article continues below advertisement
The father-of-one asked his guest, "If you had to be one thing in your life, in this world would you just want to be a parent?'
Madonna replied: 'No, yikes. I mean it's a challenging job to be a parent."
"It's the most important job isn't it?' responded Dave.
"Yes - that's the politically correct answer," answered the singer, who's just ended her world Sticky and Sweet tour, "It's a great job. I wouldn't change my job as a parent for anything but its also extremely challenging. Teenagers right?"
Madonna took the most affront to a question about A-Rod, but rather about talk of her diet. "We heard a rumor that you haven't had New York pizza by the slice," David queried, "what do you like on your pie?"
"That's a very personal question," she laughed, before Dave marched her next door to Angelo's Italian restaurant for her first visit to a NYC pizzeria, where Madonna put her macrobiotic regime aside to munch on a cheese-free slice with black olives and toast the crowd with a martini.