NEWS
Martha Plimpton on David Carradine's Passing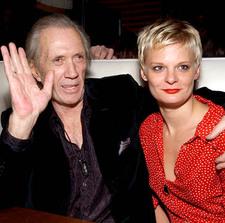 In light of actor David Carradine's untimely passing at the age of 72 today in Bangkok, Thailand, his niece, actress Martha Plimpton has released a statement on behalf of their family.
"My Uncle David was a brilliantly talented, fiercely intelligent and generous man. He was the nexus of our family in so many ways, and drew us together over the years and kept us connected. I adored him as a child, and as an adult I admired and respected him," she writes.
Article continues below advertisement
"We will all miss him terribly, and are so grateful for everyone's condolences. The passing of someone so loved is extremely difficult under any circumstances, and I hope that all those in the media who admired David will respect his legacy and allow his family and loved ones to grieve peacefully."
DAVID CARRADINE REMEMBERED:
Carradine worked on dozens of films and TV shows, but perhaps was best known for his role in '70s martial arts series Kung Fu and its '90s reincarnation Kung Fu: The Legend Continues. More recently, he was nominated for a Golden Globe for playing the title role in Quentin Tarantino's Kill Bill movies.
The cause of death has not been officially announced, but after unconfirmed reports out of Thailand claimed the actor committed suicide by hanging himself, his rep told the media, "We can confirm 100 percent that he never would have committed suicide. It was an accidental death. Everybody is in shock."