NEWS
Martha Says 'Whatever' to New Show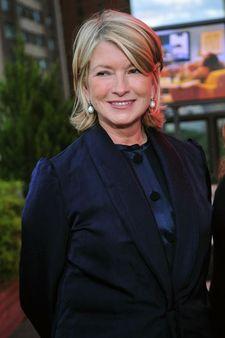 Martha Stewart is a master of many things, but a sense of humor?
In a new series airing September 16 on the Fine Living Network, Whatever, Martha! will attempt to do just that, showing a lighter side of Martha through a look back at some of her more unfortunate experiences on television.
Hosted by Martha's daughter, Alexis Stewart, and Jennifer Koppleman Hutt, the comedy series will poke fun at Martha's outfits, anal retentive tendencies and "habit of mixing sexual innuendo with her household hints."
Article continues below advertisement
At the Whatever, Martha! launch party at NYC's Empire Hotel, Martha said she hopes the show will show people a different side of her.
"People ask me where the idea came from for the show. Really it comes from having a good sense of humor and actually wanting people to know I have a sense of humor," she said. "I do have a sense of humor."
Stewart says when it came to putting her two cents into the show, she decided not to.
"I have given Alexis and Jennifer permission to comment on the real thing," she says.  "Me and my guests and the projects.  I cannot stop laughing when I watch any one of the segments. And if that's happening to me, the object of the sometimes deriding, not nasty, but funny and irreverent remarks of Alexis and Jennifer, I know it will garner a whole new audience and a whole new way of what I've been doing for a long time, which is teaching the world how to do things."