NEWS
Martha Stewart Celebrates Thanksgiving, Pet-Proofs Christmas Tree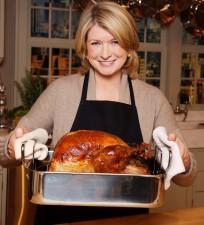 Martha Stewart gives turkey tips in the OK! on newsstands now, and in this interview, the domestic diva talks about how she spends her holiday and pet-proofs her Christmas tree.
Before she readies the holiday meal, the 68-year-old mogul sets up an interesting centerpiece – using gourds.
"I take odd-shaped gourds and carefully spray paint them beautiful colors and make an arrangement on the table," she tells me after wrapping Sirius XM's Martha Stewart Living Radio show. "It's very easy and beautiful. Another thing is to get gourds that are naturally beautiful, like warty ones or cheese pumpkins. There are all kinds of beautiful things out in the farmer's markets to arrange on your table. And you can eat them afterwards. Not the painted ones, but the natural ones."
Article continues below advertisement
Up next, it's time to feast.
"I like to eat in midday," she tells me. "Maybe 2:00 or 3:00, rather than wait until late."
For Thanksgiving, we'll see Martha indulging in her favorite side dishes of stuffing, pureed carrots, squash and potatoes.
"A good stuffing is an interesting stuffing," she says. "My favorite is an old-fashioned bread stuffing with lots of celery, lots of apples and prunes."
For dessert, she piles on the pumpkin pie ("with fresh pumpkin"), pecan pie, apple pie and lemon meringue pie.
Post-dinner, we would find Martha watching her holiday favorites Miracle on 34th Street and March of the Wooden Soldiers. (No football here!) But first, she'll indulge in her love of the outdoors.
"I would rather take a really great hike both before and after dinner. It's nice. Usually it's beautiful weather, it's invigorating, you can eat lots of turkey. You can take a nice nap after dinner, and you can get up and have a great turkey sandwich and take another hike."
Article continues below advertisement
TREE-TRIMMING TIME
Keeping her French bulldogs Francesca and Sharky, and five cats Emperess, Tang, Princess Peony, Bartock, Vivaldi and Verdi safe from the tantalizing Christmas tree temptation is a top priority for Martha.
What tips can she share?
"Oh, no real tinsel," she tells me. "Cats can eat that, and they cannot digest it. You have to keep that away. And also keep the ornaments a little bit off the floor, because cats are prone to bang them off the tree, break them, and they can cut their paws -- you can cut your feet. And also, if you have a tree that might fall down for any reason whatsoever – because your stand isn't appropriate or something – wire the top of the tree to something like a window frame so that the tree has no way to fall down."
What do her furry friends – which also include horses and donkeys -- mean to her?
"Happiness," she says. "They're very special parts of our family – all pets."
Pick up the OK! on newsstands now for Martha Stewart's turkey tips. The cover line is Britney Spears/"Oops, I Did It Again!"