NEWS
Martha Stewart Sees a Future in Pole Dancing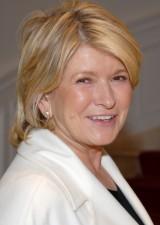 Martha Stewart's pole-dancing video has become an Internet sensation after she performed the stripper moves on her show Monday, but she now discounts the frisky romp.
"I didn't do a stripping routine," she tells me with a chuckle Wednesday during the American Antiques Show opening night gala benefiting the American Folk Art Museum held at NYC's Metropolitan Pavillion. "I did the pole dancing, it's called."
Article continues below advertisement
She adds, "It's a fabulous exercise. I look at it as an exercise."
The 68-year-old domestic doyenne is "impressed" she didn't wake up sore, and "definitely" will return to a class next week.
What moves does she most want to learn?
"The last one that she did – upside down," she says. "That's the one I'm gonna to learn. Next week, I'll be doing it."
See her dirty dancing clip from The Martha Stewart Show: