NEWS
Martina McBride Says 'No Tweeting at the Table'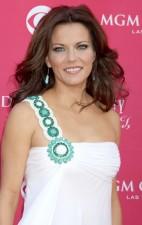 Martina McBride's husband, John, is the only man in a house that includes their three daughters, Delaney, 14, Emma, 11 and Ava, 4.
"He loves it!" the singer, 43, tells me. "He loves it. He's adored and taken care of by four girls, so he loves it."
What are their house rules?
"We try to eat dinner together every night that we can," she says. "No Tweeting at the table, no texting at the table." Mealtimes are so important to Martina, she's joined up with SharetheTable.com to encourage other families to eat together.
Article continues below advertisement
Although she bans it at meals, Martina herself is an avid Tweeter.
"It's really fun. I'm really enjoying it. I don't try to overdo it. I check in a few times a day. It's a cool way to keep in touch."
She gives props to the man she married in 1988.
"There are so many things he's taught me," she tells me. "Probably patience because he's very patient."
The McBride family got to spend time with the Jonas Brothers a few times in 2009 when Kevin performed in their Blackbird Studios and when Martina sang with them in concert.
Will she attend eldest brother Kevin's wedding?
"I don't think so," she says.
Here's a photo with Martina and the Jonas Brothers.
Pick up the OK! on newsstands now for more Martina McBride. The cover line is Britney Spears/"Oops, I Did It Again!"