NEWS
Martina McBride's Secret to Feeling "Great"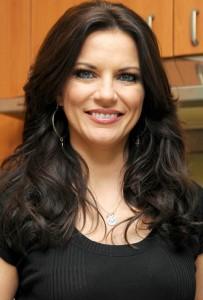 Martina McBride has noticed her body has changed now that she's gotten older. Suddenly, exercise and healthy foods are mandatory in order to maintain a good figure.
The country singer, 44, who is a married mom to three daughters, shares her regimen.
"As you get older, your metabolism slows down and things change," she tells me. "I was always the kind of person that my whole life, I never really had to worry about what I ate or exercise. Definitely as you get older, you have to start thinking about that. That's been my challenge –changing my whole way of thinking about it, and realizing that I have to do that now laughs and I don't like it. I have to watch the carbs and try to eat healthier."
Article continues below advertisement
Also mandatory: Working out on the treadmill or elliptical machine three times per week.
"I usually do about 40 minutes," she explains. "After 30 or 35, I start to get bored, so 30-35 minutes of cardio and weights."
Thanks to her regular regimen, Martina is a happier person.
"It makes me feel great," she says. "Obviously looking good is important, especially in this industry, but the main reason I do it is because it makes me feel good. If I get out of the habit of doing it for awhile, I start to notice I don't have as much energy and I don't feel as good. The benefits of feeling better are one of the main reasons I do it."
Bonus: Maintaining a workout routine keeps her diet on track.
"When you take care of yourself, when you work out and put the effort and the time into doing that, you're in a place where you're constantly thinking about health, so I think it definitely affects what you eat and the choices you make," she says. "But I think everything in moderation is fine. I definitely don't starve myself or deprive myself because that's no fun. I try to teach my daughters that it's about being healthy. It' s not about looking a certain way or being a certain number on the scale, but it's about how it makes you feel."
Here's my pic with Martina:
Pick up the OK! on newsstands now for Martina's What I Ate Today feature. The cover line is "Teen Mom Maci's Bitter Custody Battle: I'll Fight For My Baby."