NEWS
Mary J. Blige Fights with Hubby Kendu Isaacs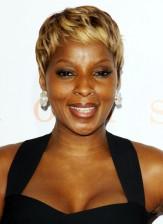 In keeping with the name of her new album, Stronger with Each Tear, Mary J. Blige was caught on camera getting into a dispute with her husband, Kendu Isaacs, at the release party for the record according to Radar Online.
On Tuesday, while Mary, 38, celebrated her 2009 album launch at Club M2 in NYC, she was spotted getting upset with Kendu after she thought he had been flirting with a waitress, Radar Online reports, and witnesses say that the singer hit her hubby's face.
Article continues below advertisement
"They got in each other's face before someone tried to separate them, at which point she shoved the guy aside and popped Isaacs in the face," a witness reports to Radar Online, "Then she bit him on the hand."
There were no serious injuries, but Mary supposedly left a bite mark on Isaac's hand.
And although there is some evidence of an argument with video obtained from the NY Post, Mary's rep denied the incident.
"People lie and don't know what they are talking about," Blige's rep commented to Radar Online.