NEWS
Mary-Kate in Fender Bender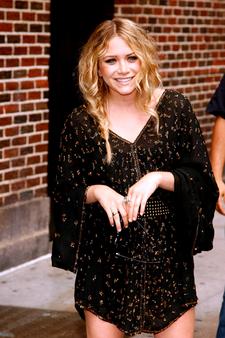 A minor fender bender is annoying for anyone, and if you happen to be Mary-Kate Olsen and there are camera around, it's downright obnoxious, even if it wasn't her fault .
On a busy street yesterday in L.A., while MK sat shielding her face from photogs in the passenger seat of a Toyota Prius, her friend accidentally reversed into the car behind it as she attempted to pull out of a parking spot.
An El Pollo Loco employee, whose vehicle was apparently bumped by the Prius, assessed the damage with the friend as Mary-Kate chilled in the car.
Article continues below advertisement
As for how the hit vehicle fared, it's unclear, as the video guy kept his camera on the tiny twin through the driver's side window, which was open.
"Get out of the f----ng window, are you kidding me?" an exasperated MK mutters to the cameraman. "You guys are..."
"Animals?" the photog helpfully fills in.
"Yeah," the celeb responds.
"Animals! I'm a cow, moooo," continues the ever vigilant paparazzi.
Finally Mary-Kate's friend returned and the car pulled away successfully.
Check out the scene below: