NEWS
Mary-Louise Parker Is Happy to Answer 'Cell Phone'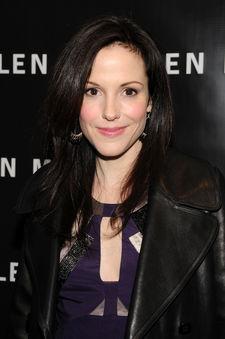 Mary-Louise Parker can't resist telling a young reporter he looks familiar.
"You have a doppelganger," she says as she enters the room at NYC's Regency Hotel. "You look like one of my best friend's husbands so much. Shocking."
When the actress, 43, is called out that this kid is a mere youngster in comparison to her friends, she flinches. "Are you saying I'm so old my best friend's husband couldn't possibly resemble him?"
Article continues below advertisement
The young reporter admits he's 22.
"Oh good God, yes, you are," she stifles. "You're right."
It's just another day for the single mom of two, who is at home on the stage in the off-Broadway play Dead Man's Cell Phone. The Tony Award winner takes on the role of a woman who answers a dead man's cell phone.
"It's the longest I've gone without doing a play since I was 17 years old so I'm really happy to be in theater," she says. "Really happy. The last play I did was Reckless, which I did three years ago. I'd done the movie, actually, and then I did the revival."
Does she prefer theater to movies or TV?
"I love the theater so much," the Weeds star reveals. "I do. There's almost nowhere else I'd rather be, and when it's going well, it's a high that I can't even describe. It's a really rewarding, rich feeling. You just feel together with other people. You share this commonality that I don't really feel on film."
Catch Mary-Louise performing in Dead Man's Cell Phone at NYC's Playwrights Horizons Mainstage Theater through March 25.