NEWS
Mary-Louise Parker Ready to Adopt Again?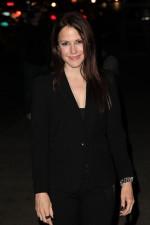 Being a mom certainly appeals to Mary-Louise Parker.
The Weeds actress loves son William, 5, whose dad is Billy Crudup, and daughter Caroline "Ash" Aberash, adopted from Ethiopia, so much, she may expand her family -- with or without musician boyfriend Charlie Mars.
Since she was young, the Emmy award-winning actress, 45, planned to adopt.
"Some people are drawn to do it, and I felt like if I don't do it now, I'm going to regret it my whole life, so I just went ahead and did it," she says during the Worldwide Orphans Foundation Benefit Gala held Monday at NYC's Capitale. "And I might do it again. I don't know. I would love to, but children take a lot of energy. They're a lot of fun."
Article continues below advertisement
For Halloween this year, the family will go trick-or-treating.
"I'm going to be an elf, my son is going to be Santa and my daughter is going to be the snow princess," Mary-Louise, who is rocking a cool black ring and black nail polish, says. "I'll try not to eat all the candy. We really like candy. Candy's fun."
How do the kids get along?
"They get along like siblings," she tells me. "They're brother and sister. They've always been brother and sister. They're really sweet together, and sometimes they hurt each other. They're like me and my brother, really."
When they're not bickering over little things, William and Ash are great playmates.
"She's really indomitable. She's really strong. She's such a little warrior. She's really amazing. She says 'do you love your daughter so much? You love me so much.' They both want to put on shows all the time. I love that. It's very vaudeville."
But they don't get it from watching Mommy on TV.
"It's Max and Ruby," she says. "There's no Weeds in my house."
Article continues below advertisement
There are 140 million orphans in the world. What would she tell someone who is considering adoption?
"Oh, they should do it," she says. "There's no downside to it. Unless you're a mean, horrible person and you plan to make them clean your garbage up or something, there's nothing bad about it. It's only good. This is going to sound very strange, but even if you're a mediocre parent, you're going to give them way more than they have now. You're going to give them attention, food and clothes."
What has her experience been like?
"It's magical, it's amazing, it's profound, it's dramatic and it's hard," she says. "I'm so glad I'm doing it."
Who would she want to adopt her?
"I'd have to stick with my parents because they're pretty exemplary."
Her own family has helped her in many ways – even teaching her a beauty routine from a young age.
"Truthfully, I've been taking care of my skin since I was 12," she says. "My sister was like 'this is how you do it.' I think you have to start really young. Right now I use a lot of Sally Hershberger products."
Article continues below advertisement
What's the best parenting advice she's received?
"I think every kid is different," she says. "You have to figure it out on your own."
And the biggest thing she's learned about herself since becoming a mom?
"That I don't know anything," she laughs. "I think they really put you in touch with how little you know, and how little you're capable laughs of and how much you're capable of. They're very humbling – children. I am more patient."
There are 140 million orphans worldwide who need support, and this event raises $950,000 to fund the WWO, which aims to transform the lives of orphaned children around the world by addressing their medical, developmental, psychosocial and educational needs. For more information, go to www.wwo.org.