NEWS
Mary Murphy of 'So You Think You Can Dance': "Back on the Show Full-Time & Full Steam Ahead!"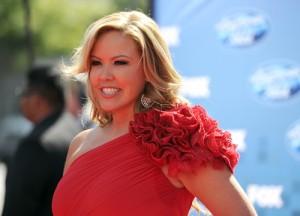 With the upcoming season of So You Think You Can Dance starting tonight on Fox, judge Mary Murphy dished to OK! how excited she is to be back! After a scary battle with thyroid cancer, Mary explains to OK!, "I'm grateful. I'm cancer-free right now, I'm healthy and I'm back on the show full-time and full steam ahead!"
"I was slowing down during the summertime and I was having a hard time swallowing and a hard time talking and I had a tumor for three years so I knew that it was a possibility " Mary explains of her battle with cancer. "I was the big idiot that got so busy that I didn't get it checked out every six months."
Article continues below advertisement
Now that she is cancer-free, not only is Mary full steam ahead, but so is the "hot tamale train"! But it's not all fun and games on the train, as Mary takes the phrase very seriously.
"It's a very select group on that train — I don't just say it to anybody." The phrase isn't a guaranteed win but Mary knows contestants are aware of its importance.
"So now they know that if they get that it means I think they're headed for the top ten."
So You Think You Can Dance is coming back for its 8th season, and Mary is so excited to see all the fresh new faces that will take the stage!
"The great thing about this show is that it's been on for so long and we've watched a lot of these kids grow up; so maybe they were10 years old and now we have a fresh batch of 18-year-olds who have dreamed of this."
Article continues below advertisement
But what is it exactly that Mary is looking for in the winner? Well, she explains, "You need a 'show me the money' dance!" Not only the wow-factor, but Mary is looking for some serious passion in dancers.
"They need to have a lot of heart and a lot of passion because this isn't a high-paying job. You have kids dancing on the street corner just so they can dance whether they get paid or not. People who have never had a trained lesson come in and audition who just develop a style in their bedroom. It blows my mind when somebody makes up a style themselves with no training but they are extraordinary at what they do and they still have us talking about it," Mary tells OK!.
OK! POLL: WHICH SYTYCD STYLE WOULD YOU WANT TO MASTER
We've seen an abundance of contemporary dancers in prior seasons but Mary tells OK! that isn't the case this season! "I think were a little more heavily investing in street dancers." explains Mary. Not only that, but the format is being changed up a bit too! "Were going back to 20 contestants." she says, "we're going to start the show with the old format where they're going to draw the dance and they're going to draw the contestant they're going to do it with."
Article continues below advertisement
Mary thinks the decision to go back to the old format is a good one and going to give contestants a more fair chance to show America what they've got!
"We've had breaker boys maybe not do so well earlier in the season and came on strong later in the season, we've got to give these kids more time and give them the opportunity to grow each week and give that to these kids this season to keep the flavor."
OK! NEWS: SO THEY THINK TOM CRUISE CAN JUDGE DANCING?
Mary's got her health but now she wants a passionate dancer that is worthy of a ride on the hot tamale train! Check out So You Think You Can Dance on Fox tonight for the two-hour season premiere at 8 p.m. on Fox!
By Alannah Scharfenberger