NEWS
Mary Tyler Moore & Dick Van Dyke Reunite at 2012 SAG Awards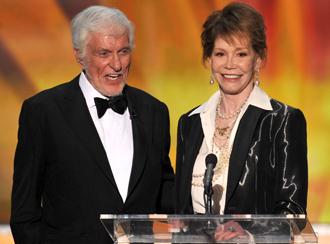 Article continues below advertisement
"MTM. There's probably not a person in the civilized world who doesn't know what that means," Dick said of his former The Dick Van Dyke Show co-star.
In a highlight video, Dick explained how he met Mary and how they became "husband and wife" on TV.
OK! NEWS: MARY TYLER MOORE HELPS BETTY WHITE CELEBRATE HER 90TH BIRTHDAY
When Mary, 75, took the stage to accept her award, she shared a story about how she was told to change her name when she started in show business. When she was starting, at the age of 18 in 1955, there were six other Mary Moores!
So, Mary added the middle name of both her and her father, Tyler, to her name.
"I was Mary Tyler Moore. I spoke it out loud. Mary Tyler Moore. It sounded right, so I wrote it down on the form, and it looked right," she said on stage. "It was right. SAG was happy, my father was happy, and tonight, after having the privilege of working in this business among the most creative and talented people imaginable, I, too, am happy, after all."
And the special moment ended with Dick surprising Mary with a big kiss on the cheek.