NEWS
Massage Therapist Made Three Calls Before Calling 911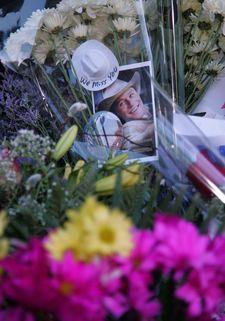 The woman who discovered Heath Ledger's lifeless body spent nine minutes making three calls to Mary-Kate Olsen before calling paramedics, police said Thursday.
NYPD originally said the masseuse, Diana Wolozin, made two calls to the Olsen twin before calling 911, but later changed its statement after taking a closer look at Ledger's phone records. (All of Wolozin's calls were made from Ledger's cell phone.)
Article continues below advertisement
The calls do not have a significant bearing on the investigation because authorities believe Ledger was dead when Wolozin arrived and have ruled out foul play.
However, they could shed more light on the exact timeline surrounding the actor's final moments. Wolozin reportedly knew both Ledger and Olsen, and knew the two were friends.
Police say on Tuesday Wolozin showed up for Ledger's massage appointment at about 2:45 p.m. ET, and knocked on his door. He didn't answer.
After setting up her massage table inside, she reportedly tried to wake Ledger and realized something was wrong.
At 3:17 p.m., Wolozin made a call to Olsen that lasted 49 seconds.
At 3:20 p.m., she made another call — this one lasting one minute and 39 seconds.
At 3:24 p.m., she made a third call to Olsen. That one lasted 21 seconds.
Wolozin then reportedly called 911 at 3:26 p.m.
NYPD says Olsen, who was in California, sent her personal bodyguards over to Ledger's apartment to help.
Paramedics arrived at 3:33 p.m. ET, where they declared Ledger dead at 3:36 p.m. — 19 minutes after Wolozin made the first call to Olsen.
Police say the masseuse called Olsen a final time at 3:34 p.m. The duration of that call is not known.
According to the Associated Press, Wolozin's name is not listed on the New York State Education Department's Web site, which tracks licensed health care professionals.