NEWS
Matt Bomer Takes on Elvis Presley in 'GQ' Italia Shoot and Says He Wants to Play Montgomery Clift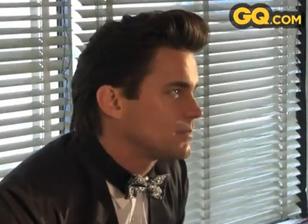 Matt Bomer takes a break from his con-man role on White Collar and channels Elvis Presley in a hot new photo shoot with GQ Italia.
The actor seems to fit right in with a '50s look, so it's no surprise what actor he would like to portray in a film. "I would love to do a Montgomery Clift biopic. I would love to just keep working with really great directors who really inspire me."
Article continues below advertisement
But for now, shooting in New York instead of Hollywood is fine by him. Matt says, "I always wanted to shoot a show in New York, but then I moved to L.A. ... and I got a show in New York. I can't complain, it's a great place to get to work in, cultural and fun."
In his spare time, Matt admits that he wants to start a charity of his own. "I think it's important to choose something that's really close to your heart. It would revolve around kids. If you can give kids a chance because they are what is carrying on our legacy."