NEWS
Matt Damon: "I'm Speechless"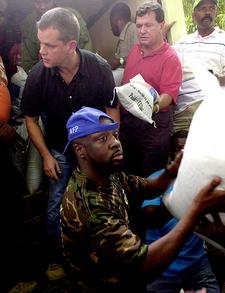 There are celebrities who just talk about making a difference, and then there are those who actually do make a difference.
Matt Damon and musician Wyclef Jean recently visited the storm-ravaged city of Gonaives, in Haiti, as reported by the New York Times. The city has been hit by Tropical Storm Hanna and Hurrican Ike and has suffered through massive flooding, ruining homes and causing widespread hunger for those who live there.
Article continues below advertisement
The two stars made a trip to the region to help call the U.N. to call attention to the suffering there, and Wyclef's Yele Haiti charity is also helping the World Food Program and the Organization of American States-affiliated Pan American Development Foundation distribute food to 3,000 families.
"It's inhumane. I wish there was a word in the dictionary. No human should be living like this,'' said Wyclef.
While Matt and Wyclef were only there for four-hours, they helped passed out cooking oil and beans at a school shelter and spent time touring the damage the storms have done. Four tropical storms have hit the region since August, and Matt and Wyclef's visit is part of the U.N.'s bid to raise $100 million for the 800,000 Haitians in need.