NEWS
Matt Damon Tells OK!: "It's a Girl!"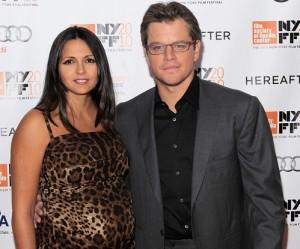 Matt Damon and his beautiful wife Luciana Barrosa attended the closing night premiere of Matt's new film Hereafter on Sunday during the 48th New York Film Festival, but the focus was on Luciana's bump, not Matt's movie! Matt told OK!, "It's a girl," and says he's "thrilled" to have another daughter! While he's anxious to meet the new addition to his family, Matt's focusing on pampering his wife.
Article continues below advertisement
Matt spoke to reporters at Alice Tully Hall in NYC about the exciting news that he's having another daughter.
"I'm thrilled. I just love my kids so much," Matt told OK! of having another daughter. "I'm anxious to meet her."
Matt and Luciana are already parents to three daughters, but the actor says he doesn't mind being the only man in the house.
"It's great, it's really incredible," Matt explained. "And just completely different from any other experience I've ever had in my life! It's like relearning life. It's actually kind of amazing."
OK! VIDEO: AFFLECK BROS BRINGING BRONX BOMBERS TO BIG SCREEN
And the best part about being a dad to four girls?
"All of it, I don't think there's one thing that stands out, just the whole ongoing blur of the experience," Matt explained. "It's just really exquisite, amazing."
But Matt admits he should be showing his wife a little more attention right now before the baby arrives.
"I'm probably not pampering her enough," he said. "The one good thing I'll say about living in New York as a dad is like, whatever craving she has, not only is it less than a block away but most times they'll deliver. So it makes it really easy."
Article continues below advertisement
OK! GALLERY: THE TOWN CAST BRINGS FILM BACK TO HOME BASE — BOSTON!
And the couple isn't too worried about going out on dates — they'd rather sleep!
"I remember when I lived here like 10 years ago and my brother would come and visit me," Matt explained. "His kids were toddlers at the time. He would call me up and say, 'I'm coming to New York for one night.' I'd say, 'Okay listen, we'll go to this bar down the street,' and he'd say, "No no no, here's what we're going to do. We're gonna go, we'll have dinner, I'll have a couple of beers and then I'm going to go to sleep. And in the morning you're not going to wake me up. And I remember thinking that sounds like the lamest thing but now our idea of a really nice night is if we could get a quiet dinner and a good night sleep, that's about it."
Reporting by Vicki Salemi