NEWS
Matt Damon "Wanted More" From President Obama; Says He's Not a Fan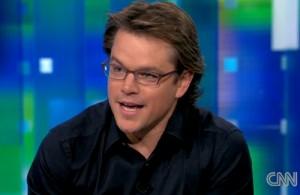 Article continues below advertisement
"In his State of the Union he didn't even say the word 'poverty,' " Matt said. "You've got millions of people languishing in it."
OK! NEWS: PRESIDENT OBAMA NOT INVITED TO ROYAL WEDDING
Matt supported Obama during his 2008 campaign and did say he appreciates him for being a "deep thinker."
He also said Obama is brilliant, but that he "definitely wanted more."
So if Matt could do something about Afghanistan what would be his solution?
"I don't think the mission there has been very well articulated," he said. "And I think it would help to kind of reframe the way we're thinking about being there and why we're there."
And as for the "reform" of Wall Street, Matt says that is "dangerous" and "shameful."
The financial crisis is "just going to happen again" because "they don't make anything. They don't build anything."
But even though he has a passion for politics, Matt is sticking with his movies and his Water.org movement.
"I feel like the work I do now allows me to change things," he explained.
"I love my job," he Matt said. "I love making movies."
Watch a clip of Matt's interview below!