NEWS
Matthew Broderick, Brittany Snow Reveal Dark Sides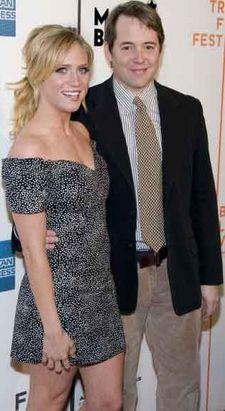 Matthew Broderick is the perfect man. I've said it before, and I'll say it again. He is my absolute favorite, so I am thrilled to see him two days in a row during Finding Amanda opportunities.
In the dramedy, Sarah Jessica Parker's hubby plays the wayward uncle who tries to save the day. His niece, played by Brittany Snow, has fallen into prostitution in Las Vegas.
First, we meet up at The Regency Hotel in NYC, where he charms with his every move.
Article continues below advertisement
"I've always wanted to be an actor who was cast in parts and says gravelly voice 'I'm goin' out,'" self-effacing Matthew says. "But I had to talk a lot in this movie."
What's his biggest vice?
"I might have a little of every vice," he tells me. "I spread it around. Am I messy? Not really. I'm pretty perfect, you know, I really am. I know that's boring, so be it. I can't think of it."
After pondering for a moment, he says, "I avoid confrontation. It all just stores up. That's not a vice, that's a personality flaw."
So adorable!
Brittany enters the room wearing a beige-and-coral dress.
"I've played a prostitute now three times," she laughs. "It's a stereotype. People look at me, and they think prostitute."
The bubbly actress admits she develops family-style rapport with her costars by studying their moves. She cites Matthew's humor and energy, but shares a quick tale about scaring off Michelle Pfeiffer in Hairspray.
Article continues below advertisement
"I spent a lot of time studying her, which sounds really creepy. I told that to her and she was a little freaked out, and a little flattered. But I would watch her. I watched the way that she stood to be the way that I stood. The way that she walked, I wanted to walk like that, just so there was the element of this younger daughter looking up to her mother, and it's an unconscious thing that they have. But I didn't want Michelle to be aware of it."
The next day, we meet up again at the Cinema Society's special screening of Finding Amanda, held at Tribeca Grand. Aha – Matthew has come up with a bad habit.
"I smoked," he says.
Finding Amanda is in theaters now.