NEWS
Matthew Good Gets Better After Some Hospital Music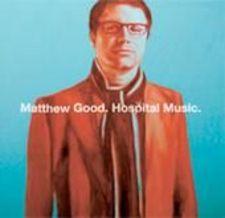 Vancouver native is sitting at home practicing the guitar when he talks to OK! He's also doing some research on his back catalogue of songs that reach as far back in time as 13 years ago. "It's hard to remember all those songs," the musician said. But by the time he's gotten on the phone with OK!, laziness has crept in and at this point he's just looking at his acoustic guitar. But, he's ready to talk.
Article continues below advertisement
Last month he released his third solo effort, Hospital Music, a deeply personal album whose influences dance in the realm of alt-country. It also shies away from a lot of Matthew's usual references to politics and '70's rock. Instead, it focuses on a broken heart, anger at the loss of a seemingly shallow ex-wife.
"I'm glad about what happened. It had to be done. My friends and I were talking and wondered what it must be like to have the number-two song in the country be about you, and not in a positive light. You didn't grow up thinking your marriage is going to end."
He added, "I'm not 26 and angry anymore. There comes a point when you have to face alienating an audience to establish a fan base that will follow you. I produced the album myself and made an effort to make it the way I wanted it to go."
When he released the album last month in Canada, it went right to number one. With his previous band, The Matthew Good Band, he had had number-one albums. But, it was a feat he had yet to achieve as a solo artist. "I mean, I was a little surprised. I didn't throw a party. Secretly it was like giving a middle finger to people because I'm 36 and people just think you're done. It's nice to show you still have the ability to do that."
Article continues below advertisement
At 36, musical relevance isn't easy to maintain for most artists. Matthew knows this. Yet, he's hoped that he'll be around for at least a little bit longer. "A lot of artists float on what they've done. I feel insulted by that. To me, that's a joke. This album was a huge litmus test. I'll probably be around for a little longer."
With another hit album under his belt and a contract fulfilled with Universal, Matthew is just enjoying life as a free musical agent. "It's exciting. What happens next all depends on who comes to the table and how much they believe in it. You can't BS me anymore."
Once he completes his nearly sold out two-month acoustic trek of Canada starting in September, he's hoping he can take his show on the American road. It's a journey he took seven years ago, but not since. "I sold out the Bowery Ballroom in 2000. Also, I played the Saint in New Jersey. I remember crowd-surfing to the bar for a gin and tonic. Especially now, that would be the perfect place for me to play."