NEWS
Matthew McConaughey on Why He Didn't Marry Camila Alves: "Nobody's Business"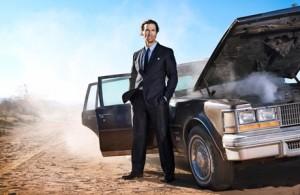 Matthew McConaughey admits that the public's perception of him is partially true, but there are some things that are simply not their business — like why he hasn't married the mother of his two children, Camila Alves.
OK! VIDEO: WATCH MATTHEW MCCONAUGHEY SPEAK SPANISH & IMPRESS GEORGE LOPEZ!
Matthew covers Esquire this month and explains how some things he keeps private about his life, but for the most part people have a fairly accurate perception of him.
Article continues below advertisement
"Would I like the perception of me to be a true mirror of who I am? Sure. Absolutely. Are there still things that I've got that are mine? That are nobody's business?" Sure, he says. "Speculate all you want. Why didn't Camila and I get married? Nobody's business."
"Do I think the image of me is a true picture of who I am? No, it's incomplete," he adds. "But things about me that are out there — I'm not going to say they're false. Am I a fun-loving guy, man? Who likes running around in the summer with his shirt off, man? Am I a guy who likes to hang out with his friends, and party and go to concerts and football games with his friends? Well, yeah!"
OK! GALLERY: STARS HIT THE RED CARPET FOR THE LINCOLN LAWYER
And while why he hasn't married Camila may be "nobody's business," Matthew did explain how he has opened his life up completely to the mother of his children — starting with building a new home.
"Before this, I had a super home in the Hollywood Hills that I did by myself — landscaping, detailing pretty much everything. But that house was mine. And yeah, we coulda gone in there right away. Camila would have said, Fine, don't change a thing," he explains. "But I thought, I found the woman I wanna do it with, the woman I wanna make a family with, hopefully live our life out together."
"She needs to have 50 percent of that," Matthew adds. "I mean, it's a lot easier for me to be at 100 percent. I'd always been 100 percent. It's braver for me at 50 percent."