NEWS
Matthew Morrison Announces He is Joining Backstreet Boys/New Kids on the Block Tour!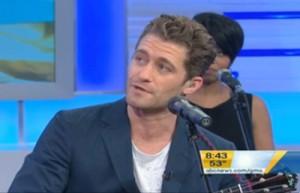 Matthew Morrison stopped by Good Morning America today to promote his new album and perform some tracks. He also shared some exciting news about his summer plans!
The Glee star will be joining Backstreet Boys and New Kids on the Block tour this summer "playing some arenas and stuff."
And GMA host Robin Roberts couldn't contain her excitement.
"That is awesome," she gushed. "That is going to be wicked cool. Thank you for sharing that with us. Wow. Our minds are racing right now."
Article continues below advertisement