NEWS
Matt's Good in NYC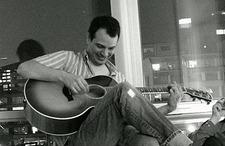 Last night at Highline Ballroom, Matthew Good finally came to NYC after an eight year hiatus from playing in our fine city. But, it was worth the wait. Matt played an intimate acoustic set that felt like we were sitting in his living room listening to him play rather than at a venue. It was fantastic.
Matt seamlessly mixed fan favorites ("Avalanche", "Strange Days", "Load Me Up") with songs from his latest solo effort, Hospital Music. His voice sounded clear and impecable. And, even with a few snafus (some guitar problems), it was a great show. The crowd seemed in awe of Matt's performance opting to watch the show rather than sing along orgo crazy. It was the best way to take in Matt's acoustic interpretations of some of his electric songs.
Article continues below advertisement
It was great fun. But, the show left me asking: When will Matt come back to Manhattan!
Set list:
I'm A Window
Suburbia
99% Of Us Is Failure
Born Losers
Tripoli
Strange Days
Load Me Up
A Silent Army In The Trees
Black Helicopter
She's In It For The Money
Avalanche
Apparitions
True Love Will Find You In The End
Encore
Champions Of Nothing
Metal Airplanes'
By Jocelyn Vena