NEWS
Maura Tierney on Her Breast Cancer: "I Was So Scared"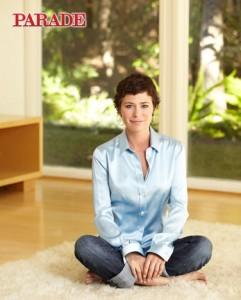 Maura Tierney may have played a physician on ER, but that doesn't mean she actually likes them. In the new issue of Parade magazine, Maura shares her story of battling breast cancer.
OK! NEWS: MAURA TIERNEY RETURNS TO TV POST BREAST CANCER
"I was so, so scared of going to the doctor. I felt something, and my boyfriend at the time made me go. He said, 'You've got to take care of this,' because I was afraid," Maura tells Parade. "That's one thing I will say: Don't be afraid to go to the damn doctor. Just go!"
Article continues below advertisement
The ER star underwent surgery in the summer of 2009, but received bad news during the final pathology report.
"It turned out to be a more aggressive kind of cancer than they thought," she says and explains how a decade earlier doctors wouldn't have been able to see a difference. "He said they would have patted me on the head and told me, 'You're cured,' and I would have died of breast cancer."
"I was so lucky," Maura says of her cancer treatment. "I had insurance, I found a great team of doctors at UCLA, and I could afford not to work while I was getting treated. From the beginning my doctor told me, 'You're going to be okay,' and I chose to believe him. So there was always that in my head."
Really, Maura sees no reason to complain about her life, but that doesn't mean she's perfect.
"The truth is, I had my surgery, and I have two more months on this one drug. I haven't figured out where I want to focus my energies to help others, and I don't know what kind of wisdom to drop on anybody yet — except for, you know, they can help people now," she says. "I feel an immense sense of gratitude, but sometimes I think there should be room for more gratitude in me, because I can still be bitchy in the morning..."